Silicon is used extensively for smelting into silicon steel alloy for alloying elements in the iron and steel industry, as reductant in many kinds of metal smelting. Silicon is also a good component in aluminum alloys, and most foundry alloys contain silicon. Silicon is the raw material of the ultrapure silicon in the electronics industry. The ultra-pure semiconductor monocrystalline silicon has the advantages of small size, light weight, good reliability and long service life.

Power transistors, rectifiers and solar cells made from silicon single crystals doped with specific trace impurities are better than germanium single crystals. Amorphous silicon solar cell research is progressing rapidly, the conversion rate reached more than 8%. Silicon molybdenum rod heating element up to a maximum temperature of 1700 ℃, with resistance to aging and good oxidation resistance.

Usage: Mainly used to produce organic-Si in chemical industry and also can be applied to mechanical, chemical, alloys, electron, medicine industry, state defense etc.
Size: 10-50mm.10-100mm etc.
Packing: In plastic woven bags of 500kg or 1mt net each or in bulk, and also can be packed according to customer`s requirement.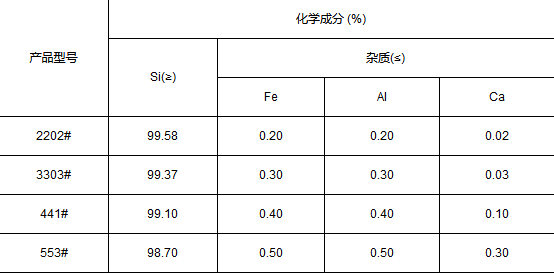 Trichlorosilane produced with silicon, can be formulated hundreds of silicone lubricants and waterproof compounds. In addition, silicon carbide can be used as abrasive, quartz tube made of high purity silicon oxide is an important material for high purity metal smelting and lighting. Eighties paper - silicon people call silicon "paper of the eighties." This is because paper can only record information, and silicon not only records information, but also processes and processes the information to obtain new information.

Built in 1945, the world's first electronic computer with 18,000 tubes, 70,000 resistors and 10,000 capacitors, the entire machine weighs 30 tons and covers an area of 170 square meters, which is equivalent to 10 house sizes. Today's computers, due to technological advances and material improvements, can hold tens of thousands of transistors on a fingernail-sized silicon, with a host of input, output, computation, storage and control information. Microporous calcium silicate thermal insulation material Microporous calcium silicate thermal insulation material is a kind of excellent thermal insulation material.

It has the advantages of small heat capacity, high mechanical strength, low thermal conductivity, non-burning, non-toxic, odorless, cutting, easy to transport and so on. It can be widely used in metallurgy, electricity, chemicals, ships and other thermal equipment and pipelines. After testing, energy saving is better than asbestos, cement, vermiculite and cement perlite and other insulation materials. Special calcium silicate material can be used as a catalyst carrier, widely used in petroleum refining, automobile exhaust purification and many other aspects.